23 juin 2006
WELCOME HOME, DEAR VISITOR !
WE ARE AGAINST
ALL FORMS OF RACISM :
AGAINST SHIISM ! AGAINST JUDAISM ! AGAINST ZIONISM !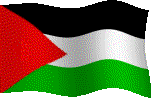 SUPPORT STATE OF PALESTINE
SUPPORT STATE OF PALESTINE STRUGGLE FOR FREEDOM AND DEMOCRACY !
NO MORE INNOCENT BLOOD!


NO MORE ISRAELI OCCUPATION !
NO MORE RACISM NOR DISCRIMINATION ON EARTH !



Commentaires sur Welcome Home, Visitor! Long Live Palestine State!